This shop has been compensated by Collective Bias, Inc. and LISTERINE. All opinions are mine alone. #BackToBold #CollectiveBias
My oldest child went off to college and wow not only was it hard to let him go but it was also eye opening how many things he kept telling me he needed for school! He left with the basics of course but came home one weekend telling me that he needed something to hold all his personal grooming supplies in.  I came up with this Wooden Caddy box with handles that he can set up on his counter.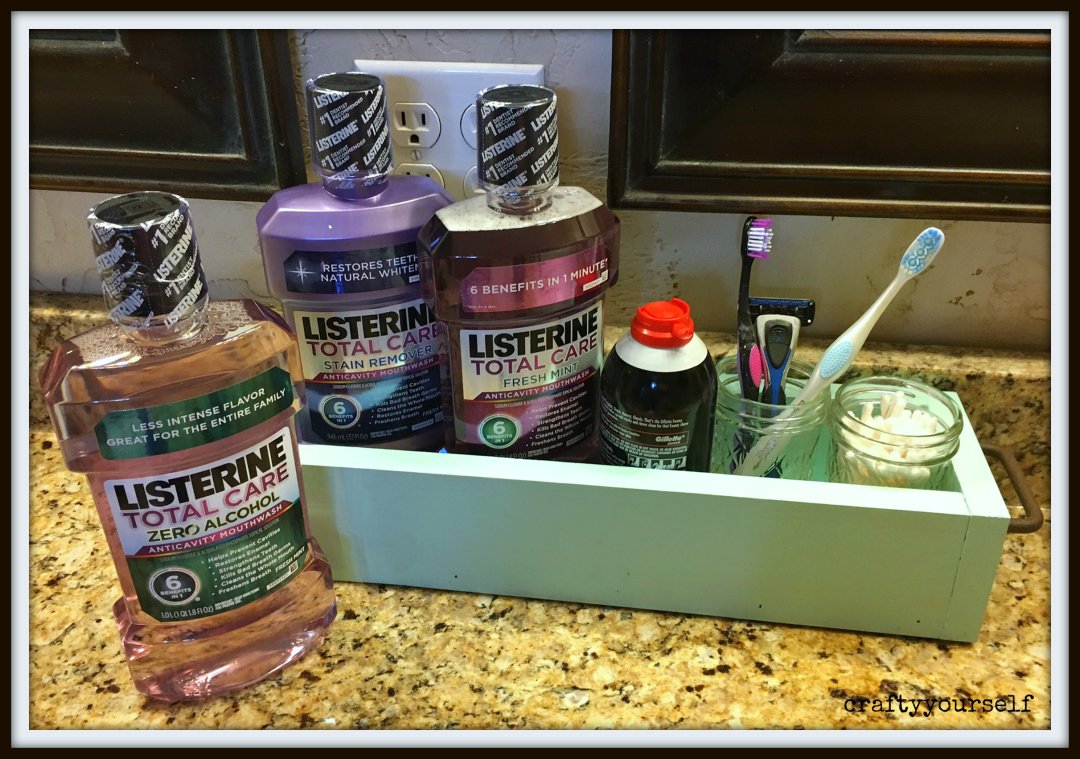 While assembling the wooden Caddy for him we got talking about his morning routine and the college dating scene. Telling me that he feels he is more prepared for his classes and college life if he gets up early. Part of getting up early includes personal hygiene so he can show up to class smelling fresh and clean! Feeling his personal best includes dental hygiene and of course his favorite LISTERINE® TOTAL CARE mouthwash.

As a mom I know how important it is that my kids (even grown up kids) take care of their teeth. I love that my son uses LISTERINE® TOTAL CARE because it helps to prevent cavities, includes fluoride, restores minerals to his enamel AND kills bath breath germs. Those are all important to set a good impression on the ladies in his classes! Every morning he does a thorough brushing of his teeth and before he leaves the bathroom he makes sure to swish and gargle with LISTERINE® TOTAL CARE right before he ventures out to conquer the day.
So being the mom I am and wanting to look out for my son I set out to make a Caddy that would hold his 1 Liter bottles of  LISTERINE® TOTAL CARE  mouthwash. My son can stay organized by setting his LISTERINE® TOTAL CARE inside of the Wooden caddy box.
The items my son puts into his caddy include:
Shaving Cream
Razor
Small glass jar full of Q-tips
Small glass jar that holds his toothbrush & toothpaste
Hair gel
Hair comb
LISTERINE® TOTAL CARE mouthwash
Dental Floss
In this tutorial I will show you how to create your own Wooden Caddy box with handles. By making this Caddy it keeps all my son's personal hygiene products in one organized place on the counter.
First you'll want to purchase some pine wood. Doesn't really matter the size just enough to create a 15 1/2″ caddy.
Cut two pieces of pine (using a chop or hand saw) into 5″ by 3 1/2″ strips.
Then cut 3 pieces of pine into 15 1/2″ long by 3 1/2″ tall for the sides of the Caddy.
I wanted the caddy to look a little rustic so I used small finish nails with my nail gun to put the caddy together.
I did not fill the nail holes in but instead just painted the entire caddy a light aqua color. Using an Aqua paint color matched his bath mats which are brown and Aqua. You can also just glue this box together if you do not have a nail gun.
You can purchase some handles for the ends of the box at your local hardware store. They were only around $2.50 a piece. Or you can also use screen door pulls which come in a bag and are a little cheaper.
After I finished the caddy I wanted to surprise my son and fill it with some of his favorite items to take back to school with him. I drove to my local Target and found his favorite fresh Mint LISTERINE® TOTAL CARE mouthwash over by the pharmacy. There was a big section dedicated to just mouthwash!

Deciding to stock up for him was easy! Because right now Target has an offer: If you Buy 3 mouthwash you get a $5 Target Gift Card. The offer is good (6/29-9/9) and will be valid both online and in-store. Have you tried any of these LISTERINE® products? If so what is your favorite?